The owner of Adam's Falconry Service has been practicing falconry since 1975. Adam is currently the President for the California Hawking Club the largest state falconry club in the US with over 200 members. Adam is also the Director-at-Large for the North American Falconers' Association which has over 1800 members. Adam has participated in and judged numerous sky trial competitions. Adam is the Chairman of the Abatement Committee for NAFA. To date, Adam has personally trained 24 apprentice falconers. Some of his projects include: resorts, agriculture, HOA's, golf courses, beaches, landfills, transfer stations, retail centers- warehouses, malls, and industrial parks. Adam has a BS in Finance from the University of Nevada Reno. He also has a MBA in Health Care Management from Southern California University.
A Master Falconer with over 30 years experience. Raymond is also a 2nd generation falconer learning the art from his father who is still an active falconer to this day. Raymond has flown a variety of raptors that are used in falconry and abatement. Raymond has mainly focused on the Goshawk. He like the challenge of working with this somewhat difficult raptor. The Goshawk seems to give him the most joy to work with, all though he likes them all. Raymond started doing abatement work in the early 2000's at a hotel keeping Seagulls at bay and a vineyard keeping starlings and other small birds from eating the grapes. We are glad to have such a great and knowledgeable falconer on the team here at Adam's Falconry Service.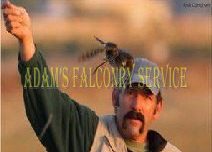 A Master Falconer with over 30 years of experience. Chris is one of our netting specialists (birds inside of stores). Chris has participated in our water quality improvement project at the beach. By removing the nuisance seagulls we were able to restore the water quality to acceptable levels as well as improve the public's health and safety at this location. Chris is well known as one of the premiere small birds of prey falconers.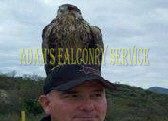 A Master Falconer who has worked at several landfills and has experience with Saker Falcons and Harris Hawks. Peter was instrumental at reducing a flock of 5000 gulls down to a very manageable flock of several hundred. This was accomplished at one of the most difficult landfills to work in Southern California due to its proximity to the coast which attracts fresh groups of gulls throughout the day coming in from different locations to try and find a snack.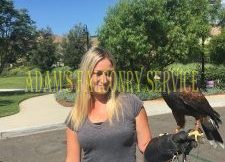 A Master Class falconer who has been practicing falconry for seven years. Ever since she was a child Jenn has always had a love for animals. Jenn's experience comes from all types of animals ranging from eels to birds and reptiles. But she has always had a strong passion for birds of prey. Jenn originally got into falconry for the love of working with raptors but she later turned it into a career. Jenn has years of experience providing bird abatement services at some of southern California's top resorts." Jenn also has her Education Permit.
Erik is a Master Class Falconer that has been involved with Birds of Prey for the last 8 years. His passion for animals but specifically birds began when he was much younger. He has raised a variety of small birds and parrots over the years but definitely prefers birds of prey. He is currently working with a male Harris Hawk and hopes to eventually fly a cast of two Harris Hawks at the same time. In his spare time Erik enjoys either hiking or off-roading, He also enjoys going for cruises on his motorcycle or wrenching on his classic car. Erik has a Bachelor 's Degree in Economics with a minor in Spanish from San Diego State University.
James is a Master Class Falconer with a passion for dirt hawking. He started his career in falconry after rehabbing a Western Screech Owl in 2012. Since that faithful day, James has dedicated himself to the pursuit of falconry and the rehabilitation of injured raptors. A Monterey County, SPCA Wildlife Rehab volunteer since 2013, he's rehabilitated Red-shoulder Hawks, American Kestrels, Red-tailed Hawks, Peregrine Falcons, Cooper's Hawks and assisted with the Golden Eagles and Ferruginous Hawks. For the past two years, he has concentrated on flying and hunting his Harris Hawk, Gotham and his Goshawk, Bruce. James is proud to be joining the Team and starting a new chapter in with Falconry Based Abatement. James has a degree in Psychology from UCSB.
A second generation General Class Falconer who loves all animals and has grown up around raptors. Dylan prefers micro falconry which means flying the small birds of prey. He used his apprenticeship to work with his Kestrel named "Apollo" before transitioning to his Gyr x Aplo. He is now working full time in the family business. Dylan also helps out on weekends with our Falconry Experience in San Juan Capistrano, CA. Dylan enjoys working with kids and is especially talented in building confidence with our younger guests who may need a little extra help during the hands on portion of the experience. Dylan has his Bachelor's Degree in Communications from CSU San Marcos.
David is a General Class Falconer who has been passionate about animals since he was a young boy. He grew up around large parrots, and took a strong interest in birds and reptiles. He has a Bachelor's degree from Cal State Long Beach in Geography with an environmental science emphasis. He understands the positive impact nuisance species abatement has on the environment and is excited to learn the art of falconry. David also has volunteer experience in animal husbandry and education at the Aquarium of the Pacific where he developed a passion for educating the public about animals and environmental issues. David has professional experience training dogs and large parrots. He is currently training his American Kestrel, Yeti, and is excited to become a part of the team.
Roxanne is a General Class Falconer working under the guidance of her sponsor Adam Chavez, owner of Adam's Falconry Service. Growing up she always knew she would work with wild animals, and birds have proven to be a perfect fit. In addition to training raptors, she also loves working with parrots. Roxanne has experience free flight training a large variety of birds for shows including ravens, hornbills, parrots, and of course birds of prey. She's excited about taking this connection with the wild to a new level through falconry.
Alberto is from Mexico City where he got involved with falconry at a young age. He has always been infatuated with animals especially big cats and reptiles. He completed his 1st year as an apprentice under the guidance of Paul Perez. He has experience with various birds of prey and a number of different bird abatement jobs such as protecting blueberries in Washington with Aplomado and Peregrine Falcons. He has experience flying 3 aplomado falcons together along with my gyr x peregrine at the same time. He is currently working at transfer stations and landfills keeping the seagulls at bay. In Los Angeles he also works on a number of pigeon projects. Alberto said " I am very happy to be part of Adam's Falconry for he gave me the opportunity and confidence while working on his team to continue to develop and grow in what is my passion."
DANNY DUQUE (AKA BRUNO MARS)
Danny is a General Class Falconer who is learning the ropes from his mentor Tim Browne. He is flying a Gyr x Peregrine and works on various projects: transfer stations, HOA's, landfills, and resorts. He also likes to ride his motorcycle and has taken a cross country trip recently.
Gia is an Apprentice Class Falconer that has experience as a Rehabilitation Technician. She is trained in wound management and rescue and transport of wild animals. She is efficient at drawing and reading blood samples. She also has prior experience in proper handling of raptors, aquatic birds, song birds, mammals and reptiles. She has a Bachelor of Science Degree in Animal Science from California Polytechnic State University (Cal Poly).
ROBERT "BOOGIE" HENDERSON
Boogie is a general class falconer, and a Veterinary Technician since 2005, with a passion for animals of all kinds. Boogie had a desire to get involved in falconry for many years working with raptors on the medical side. It wasn't until his wife took him to Adam's Falconry Experience that he learned the path to his falconry dream. Boogie started off with a Redtail Hawk named Max, his first year as an apprentice, and has since flown a number of raptors. Boogie works part time filling in at Adam's Falconry Service.